E-NYX HYBRID ROAD
Beyond E-Xtraordinary
A more sustainable alternative to getting around

Motor FSA System

Integrated Battery Samsung 18650-35E 36v 250Wh

Total 500 Wh (extender). 250Wh Integrated + 250Wh cage range extender

5 Levels of assistance
Motor and battery: The "FSA System" is composed of an electric motor to assist the rear rider, a 250 Wh battery group, an additional 250 Wh expansion battery, with a central unit integrated into the bike and an app for a smartphone. The compact design and reduced weight of the FSA system (a complete system weighs only 4.0 kg) guarantees elegant integration with the electric bike on the road, with electric ghiaia and with pendolari.
Equipped with a 20-cell 250 Wh battery that is completely integrated into the oblique tube and an additional 250 Wh battery that can be installed inside a porthole holder for short trips.
The 5 assistance settings, including the fine green "eco" mode and the red "boost" mode, fine servo at a maximum of 250 W, among the stesso motor is equipped with an integrated copy sensor and two speed sensors, which can be used Easily adapted to various driving conditions. I will change styles and conditions. Not only does it provide extremely sensitive and coherent assistance, but it is also silent, with an emission of less than 55 decibels.
When the limit of servo assistance of 25 km/h is exceeded by the UE (32 km/h by the Stati Uniti), the "FSA System" engine is activated and introduces the feature and minimum resistance to the transmission, allowing the cyclist to experience a Natural behavior and free experience. pedal movement. In addition to the comprehensive weight and complete integration of the system, the use of standard garniture allows the e-bike to adapt to a standard bicycle and has a manovrabilità il più vicino possible to a normal pedal bike.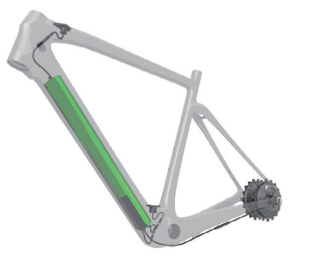 To turn on - press the button for 1 second
To turn off - press the button for 4 seconds